Nor' West Company Products










'Parchment' background created by Jason Gatliff for Historical Enterprises, publishers of On The Trail and the HistoricalTrekking.com website.
Nor' West Company's website is hosted and managed by Nor' West Net.
©1999 - 2006 by Nor' West Net. All rights reserved. For publication information contact webmaster@norwestcompany.net

Black Powder from Nor' West Company
Contents: Click or scroll down to see:
Nor'West Company is a BATF licensed black powder dealer. We carry Goex and KIK brands of black powder. Formerly produced by DuPont, Goex has been in continuous production in the United States since shortly after the American Civil War, and is a consistently high quality product that has established the "gold standard" for black powder performance. KIK brand black powder is produced in Slovenia in a mill that's been in continuous production since the 1850s. Click HERE to see the results of a test comparing the performance of these brands of black powder.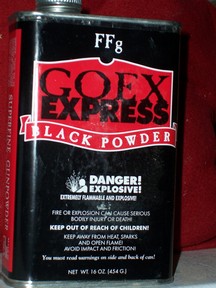 New from Goex, Express is a premium quality black powder that is formulated to give the most consistency and accuracy that is possible. Goex Express brand black powder is quickly becoming the most popular black powder used by competitive shooters everywhere. If your goal is the ultimate in performance, then Goex Express is the powder of choice. Available in FFg and FFFg granulations. $30.00 per lb.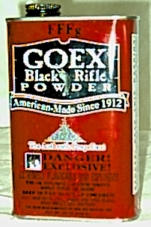 Goex Fg, FFg, FFFg, FFFFg and Cannon $30.00 per lb.
To see a comparison of the velocities and consistency of Goex, KIK and Elephant brands of black powder, click here.